- Ben Farr
Christmas Gift Ideas for Surfers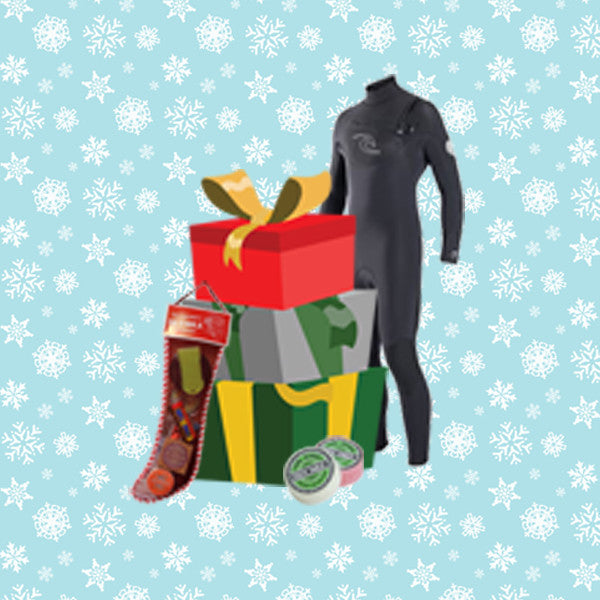 Rumour has it that Surfers are notoriously hard to buy for at Christmas time...
We here at Dingle Surf say that simply isn't true. Give us something that will either keep us warm in the water, or some new gadget that we can convince ourselves makes us surf like Kelly Slater and we will be happy boys & girls come Christmas morning.
We have handpicked some of our favourite gift ideas for surfers, from little stocking fillers to big ticket items that are sure to put a smile on their face. To see the whole list click here.
1. Sex Wax Christmas Stockings
Crammed full of absolute surf essentials the Sex Wax Christmas Stocking has to be on every surfer's Santa list this year. You'll not only get two blocks of Sex Wax, you'll also find some surfboard repair putty, a wax pot and other goodies. Its basically every surfers dream - and you save money compared with buying all the items separately.
2. Changing Towels & Mats
Nobody likes getting cold while getting changed after their pre-Christmas lunch surf. Changing Towels are the best way to keep the wind off your back while also protecting your modesty! The versatile Changing Mat also doubles up as a bag for your wet gear saving you from the age old problem of soaking sandy wetsuits in the back of your car. 
3. Rip Curl 7mm Flash Bomb Booties
Yes, 7mm! These are the ultimate in keeping your feet warm this winter. The Flashbomb Bootie mega thick yet supple neoprene keeps your toes warmer for longer and they're fully 'flash-lined' making them the fastest drying bootie on the market. At €70 this might be out of some surfers normal budget, so they make a really special gift.
4. A New Wetsuit!
Has your surfer been really good this year? If so, then they deserve a new wetsuit to get them through the winter months. We have a fantastic range of excellently priced suits. We like the Rip Curl Hooded Dawn Patrol, easily the best hooded suit on the market under €300. And for the ladies you can't beat the awesome stylings of the Billabong Synergy with its unmistakeable Aztec print. Both great suits that won't break the budget.
5. Gift Cards
If you still can't see what you like, or you are worried about simply getting it totally wrong, you can rely on a Dingle Surf Gift Voucher to allow them to get whatever they like. They can spend it on our website or when they visit us here in store.
And finally no surfer's stocking is complete without a good ol' block of Sex Wax - every surfer will thank you for it so don't forget to add a bar to your order.