- Ben Farr
Dingle Surf x Sacred Heart University | Surf Lesson 31/3/17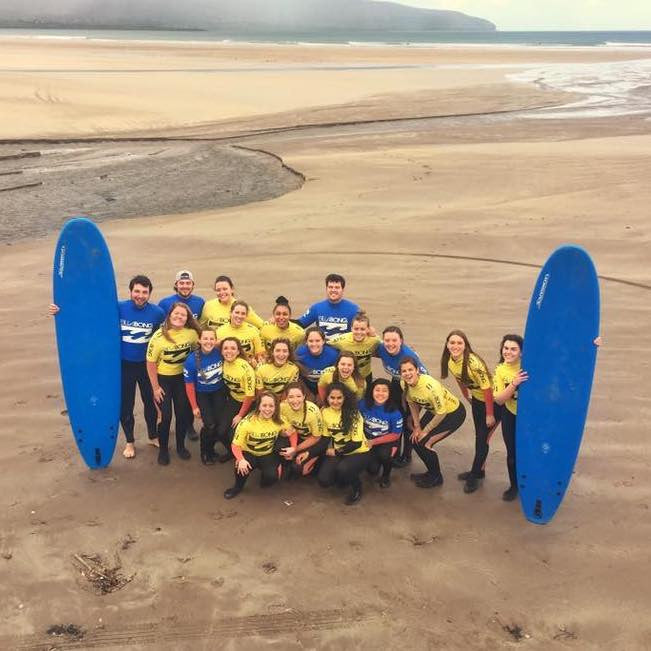 The wonderful gang from Sacred Heart University joined us on a lovely sunny afternoon at the end of March for a fantastic few hours in the water learning to surf. The beach here at Kilcummin, Brandon Bay didn't disappoint offering up perfect conditions for teaching in clean 2ft waves. We really are blessed here in County Kerry.
Most of the students hadn't seen the Connor Pass and all were blown away by its majestic beauty, before heading to the beach for the real joy of surfing. Once in their wetsuits (the boys took the longest!) we got to work learning about beach safety, the surf equipment and the all important surf technique.
Everyone was eager to get into the water so after leaning the skills on land we took to the waves where everyone enjoyed the first steps into the world of adventure that is surfing. By the end of the lesson nearly everyone had stood for at least a few seconds, some were already ripping along on long rides while others simply had a huge smile on their faces after a few wipeouts - but that's ok too. After all, the best surfer is the one having the most fun.
Sacred Heart University have been visiting us here in Dingle for a number of years now and are in the process of setting up a permanent base here in County Kerry. We love having the students join us as part of their study programme and most make sure to squeeze in a second lesson while they are staying here in Ireland. 
Read more about our range of surf lessons here or you can book a surf lesson here.